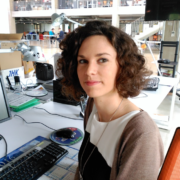 I am a native of Le Mans – France – I have always been interested in foreign languages. At school, I chose to study English as a primary and German as a second foreign language. These choices allowed me to travel to Ireland, England, Germany and Austria.
After graduating, I decided to study for an LEA degree (Foreign Languages ​​Applied to International Trade) at the University of Angers because it allowed me to utilise at least two foreign languages concurrently.  Meanwhile I got a job in tourism as a receptionist. During the 3rd year, I spent 11 months in Passau (Germany) as part of the ERASMUS program. I enjoyed my life in Bavaria but for personal reasons I decided to change course.
After college, I found my way to Andalusia and although I couldn't speak a word of Spanish I was very motivated. After some odd jobs, I applied to the University of Malaga (Spain). In 2010, I completed a 5 years degree in Translation and Interpretation -Licenciatura en Traducción e Interpretación- with a proficiency in Spanish, French, English and Italian. I learned how to translate and use CAT tools such as OMEGA T and TRADOS SDL.
It was then that I started working as a professional translator. I did an internship for the company MSI-International in Malaga where I learned tourist and technical translation. I then worked for translation agencies such as MOROTE TRADUCCIONES  in Seville. I also worked as an English and German teacher in primary schools and other language teaching facilities.
After another tourism job I decided to go back to France. So I returned to my native region and started working as a trilingual sales assistant for an international company that specializes in buying unsold stocks. Initially I covered Germany then worked in collaboration with a Spanish buyer. Finally I was promoted to a buyer for France.
After almost 5 years in France I have returned to Andalusia to resume my work as a full-time translator with a wide experience and resolute determination.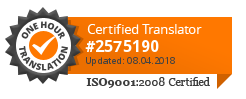 AM TRANSLATION SERVICES
Translate your documents quickly and easily!
© Copyright – AM Translation Services